Celebrating Independence Day in Alamo Heights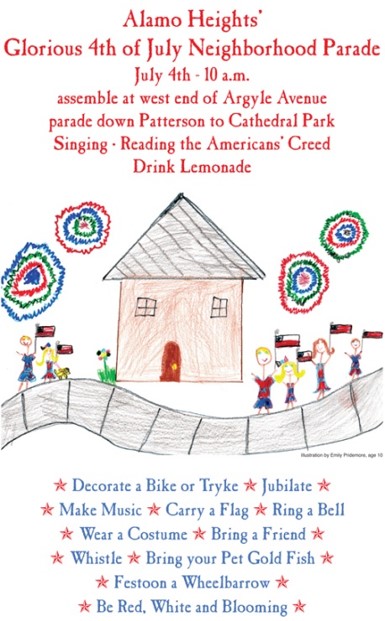 The Alamo Heights Fourth of July Parade is a beloved neighborhood parade that has been a tradition for over 50 years. It is a family-friendly event that celebrates the spirit of Independence Day with music, decorations, and lots of fun.
Alamo Heights is a great place to celebrate the Fourth of July. With its small-town charm and patriotic spirit, the community comes together every year to commemorate America's independence. The annual Fourth of July parade is a highlight of the community.
Parade Route
The parade starts at the intersection of Estes and Patterson and ends at Cathedral Park. The parade route is about a mile long and takes approximately one hour to complete. The parade features floats, marching bands, and community groups. Spectators are encouraged to bring chairs and blankets to enjoy the parade from the sidelines.
Celebrating with Neighbors and Families
The Fourth of July is a time for celebrating with family and friends, and what better way to do so than with your neighbors in Alamo Heights? This community is known for its tight-knit neighborhoods, making it the perfect place to come together and celebrate the holiday.
One great way to celebrate with your neighbors is to organize a block party. This can be a fun way to get everyone together and enjoy some good food, music, and company. You can set up tables and chairs in the street, and everyone can bring a dish to share. This is a great way to get to know your neighbors better and strengthen your community bonds.
Another fun way to celebrate with your family and neighbors is to have a backyard barbecue. You can invite your neighbors over for some burgers, hot dogs, and other grilled favorites. This is a great way to spend time with your loved ones and enjoy some delicious food.
No matter how you choose to celebrate with your neighbors and family, the important thing is to come together and enjoy the holiday. Alamo Heights is a great community full of friendly neighbors, and the Fourth of July is the perfect time to celebrate that sense of community and togetherness.
---
Celebrating the Fourth of July in Alamo Heights is a time-honored tradition that brings together families, friends, and neighbors to celebrate the birth of our nation. From the annual parade to the singing of the American's Creed, there is something for everyone to enjoy.
---
In conclusion, the Fourth of July is a time to come together as a community and celebrate all that makes America great. Whether you are a long-time resident or a first-time visitor, you are sure to have a memorable experience in Alamo Heights. So grab your family and friends, put on your red, white, and blue, and join us for a day of fun, food, and patriotism!
Alamo Heights 4th of July Parade details here: https://www.alamoheightstx.gov/news/stories/4th-of-july-parade-tuesday-july-4th/